ORV's -- ATV's in The Ottawa National Forest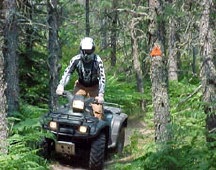 Welcome to the beauty of the Ottawa National Forest's forested land and bountiful waterfalls that dot the approximate one million acres of land in the western end of Michigan's Upper Peninsula. This area is known for its hearty and friendly people as well as its hardwood forest, fishing, deer, grouse and bear hunting, spectacular fall colors, canoeing and plentiful winter snows.
The Ottawa has a remote solitude that is unique and unexpected for the Upper Midwest.
Many roads on the Ottawa are open to visitors with no restrictions. Use on some lower standard roads is regulated to protect the road investment or other resources or to provide a desired recreational experience. Hikers, skiers, and other non-motorized users may use most roads at any time. ORV's and ATV's may use roads (with the exception of main collector roads) unless there is a sign prohibiting their use. A gate, berm, or other closure device indicates a road is closed to passenger vehicles. Some road closures may be seasonal. Please adhere to the restrictions and do not use open roads when they are susceptible to damage caused by rutting (during the spring thaw or after heavy rains).
Federally Designated Wilderness -- Motorized vehicles are not permitted in federally designated wildernesses. On the Ottawa this includes: McCormick Wilderness, Sturgeon River Gorge, and Sylvania Wilderness. Please check with the nearest Ranger District office for maps of these locations and other areas closed to ATV use or phone (906) 932-1330.
Why are some roads closed? Roads are closed for a variety of reasons, including protecting threatened or endangered species, minimizing damage to roads, watershed protection, and to provide for non-motorized recreation opportunities.

Trail Maps:
BILL NICHOLLS RAIL - TRAIL (.8meg. pdf)
IRON RIVER - MARENISCO ROUTE (1.8meg. pdf)

Additional DNR ATV Maps
Please enjoy your forest experience and be sure to check the Michigan Department of Natural Resources (DNR) Off-Road Vehicle Guide for rules, licensing information, and State of Michigan designated ORV trail maps. The DNR can be reached at:
MI Department of Natural Resources
PO Box 440
Baraga, MI 49908
(906) 353-6651
For more information on the Ottawa National Forest, please call 1-800-562-1201 (toll free in Michigan and 715 area code in Wisconsin).