ABR Trails – Taste of the Trails – March 3, 2018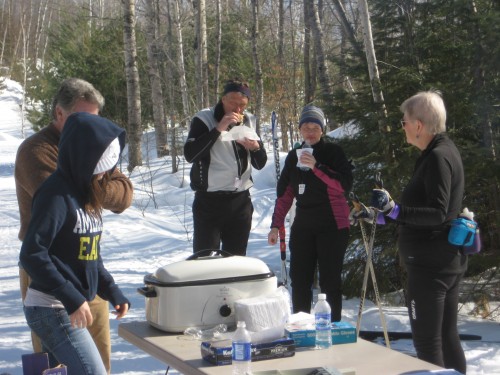 Ski along the ABR Ski Trails and sample our local cuisine and specialties at various stops along the trails.
All of our favorite vendors and restaurants attend.
We have 5 confirmed restaurants attending. Manny's, Ole Suffolk Ale House, Brewsters, Don and G-G's, Cold Iron Brewing.
There may be a few more last minute additions.
<>
<>
ABR Trails On Facebook
Below are the latest postings from the ABR Trails Page On Facebook.
<>
Sunday March 24th, 2019 - 6:11 pm
Wrapping up a great season. We want to say a BIG thank you to all our skiing friends for a wonderful season. Have a great summer and we'll see you next winter!! ... See MoreSee Less
Thanks for a great winter!
Skied ABR with my daughter this morning. Love going there when in town. Look forward to coming back!
Way to go! Time to rest a bit.
Congratulations on another successful season!
See you in November! Looking forward to tons of snow and tons of new HATS --- RIGHT ANGELA?!? 😁😁😁
Spring skiing was fabulous yesterday! Thank you for always having stellar grooming.
A wonderful warm hearted crew! Thank YOU for making xc skiing at ABR fantastic!
Thanks for the great skiing!
Great season, sorry to see it end.
Where's Waldo (aka Eric)?
Thank you Team ABR! We enjoyed your trails and your hospitality this year!
Best trails in the USA!!!
Thank you, BOLD had an awesome weekend this year as we always do. You are the best!
Sending love to our fellow snow-lovers!
Great season, thanks for everything! Grooming as always was fantastic!
Thanks for all your hard work and smiling faces Eric and Angela and staff!
Load more
<>
Visit ABR Trails On Facebook >>>
<>