Black River Lodge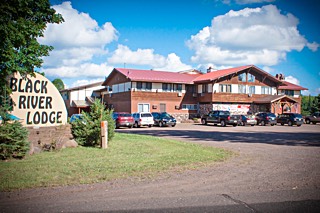 Welcome to the Black River Lodge! We are a family owned and operated destination hotel located in Ironwood, MI. Black River Lodge is a small, country lodge with a resort feel.
​We offer a "different" kind of lodging experience to traveler's in the area. Technically a hotel, the lodge is essentially a big mansion that we share season after season with all of our guests.
Past guests have actually described their stay as similar to a relative's house… but on a bigger, more comfortable scale. Many do not realize the lodge is our homestead. We work here. We play here. Most importantly, we live here. We do it all! We promote a social atmosphere and invite guests to settle in, get cozy, grab a cold one and ENJOY all the Western Upper Peninsula of Michigan has to offer!
Settle In. Get Cozy. Grab a Drink & Stay Awhile!
The lodge is a great option in the Ironwood area for traveler's looking for clean, comfortable accommodations with simple amenities. The lodge has 22 unique units plus 4 townhouses to suit any traveler's taste. We make a great "base camp" option to explore the entire Western UP over a longer stay, and are especially great for groups!
Pool & Hot Tub
Enjoy our 54' x 22' swimming pool & hot tub!
* 3′ shallow end and 9′ deep end.
* Children under 16 must be supervised by an adult at all times and swimming is at your own risk.
* Bring your own life jackets if needed. No lifeguard.
* No glass or food is allowed in the pool facility at any time.
* Lodge guests only, no general public swimming.
Black River Lodge
N12390 Black River Rd.
Ironwood, MI 49938
906-932-3857
<>
Visit Black River Lodge Website >>>>
<>
Black River Lodge On Facebook
Below are the latest postings from the Black River Lodge Page On Facebook.
<>
<>
Visit Black River Lodge On Facebook >>>
<>
Black River Lodge – Photos via Instagram
Here are the latest photos of Black River Lodge via instagram. If you have an instagram photo to share of your visit to Black River Lodge, choose "Black River Lodge" in Ironwood as your location and your photos will appear in the photo stream below.
<>
<>
Visit Black River Lodge Website >>>>
<>