Upper Peninsula Heritage Trail System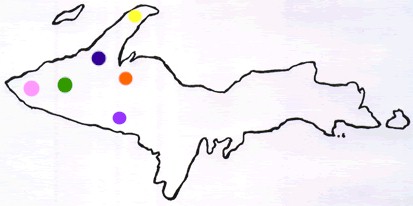 Click on any of the buttons above to see points of interest
along the Upper Peninsula Heritage Trail System in that area.
The Western Upper Peninsula has a rich and fascinating history. Its' complex geological features that were created over two billion years ago defined the development of modern and pre-European cultures. Its' vast resources of iron ore, copper, and its' connection with the Great Lakes water system make it one of the world's premiere landmarks. The story of this landmark has remained untold. The area inhabitants are quietly moving through their lives and the story becomes faded as generation pass. Buildings and legends are slowly erased by nature's ever-persistent etchings on the landscape. The thinderous stories of battles with the elements and the battles for the rich resources are slowly lost in the transition from generation to generation.
So we come together to uncover the story about a region call the Western Upper Peninsula. It is a region of land at the northern most part of the United States covering an area of over 40,000 square miles where historic and cultural sites are scattered throughout the natural geographic features of the landscape. Individually they are inconsequential and lack restoration and interpretive intrigue. But together they beocome one of the most significant historical accounts of natural and cultural history in the world.
We prepare to tell the story through a common vision "To enhance, link, preserve, and interpret the unique aspects of the Western Uppewr Peninsula's natural and cultural heritage for the enjoyment of all."
By that, we have put together this site that shows you important area of the Upper Peninsula Heritage Trail System.