Porcupine Mountains – Midwest Telefest – February 11 – 12, 2017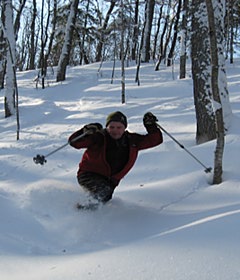 Telefest 2017 will be on February 11 & 12 at the Porcupine Mountains Ski area and State Park near Silver City, MI
Well its Telefest week and everyone is getting excited to ski this weekend!
Here's an updated schedule for Saturday February 11 events.
11:30am – uphill downhill race on Ojibway run in front of the lodge
2:30pm – group photo and gang ski, meet at top of Agate run
5:00pm – gear swap meet up in the porkies lodge Aframe
6:00pm – potluck dinner and acoustic jam starts at the porkies lodge
Sunday February 12
10am – cross country ski tour and backcountry ski tour to the radio tower. Meet near the front entrance at the porkies lodge
For the potluck dinner and party on Saturday night remember to bring a dish to share and bring your acoustic instruments to jam!
We are expecting at least 3-5 inches of fresh snow this week at the porkies and the hight temperatures for the weekend will be mild, in the upper 20s and low 30s.
Hope to see you all there!
<>
Midwest Telefest On Facebook
Below are the latest postings from the Midwest Telefest Page On Facebook.
<>
Wednesday February 6th, 2019 - 3:28 pm
Just 2 Days until Midwest Telefest 2019 and we are getting stoked! The Porkies are forecasted to get several inches of snow the next 2 days, Thank you snow gods! Temperature highs are expected to be between 10 and 15 degrees this weekend, so weather is looking good! This is our last post before the event, hope to see you all there!

Below are the details from the recent post in case anyone missed it. See details at the end for Chili Cookoff Saturday Apres Ski. Also dates are slightly wrong on poster, actual dates for Midwest Telefest 2019 are February 8-10.

Here is the latest info on this epic weekend!

--Friday February 8--

Open skiing all day, shred the gnar!

8 PM - party/dance at 2 Loons Bar and Restaurant in Silver City, MI. Feeding Leroy is the band, $5 cover.
They will be serving beer, drinks and come early if you want to get dinner at the restaurant. Remember, no BYOB for Friday night, support the 2 Loons who will have a nice selection of microbrews and mixed drinks.

--Saturday February 9--

Open skiing all day on the hill and backcountry

Gear Swap in the A Frame all day, label your items with name and price

10:30 AM - Uphill/Downhill race in front of the lodge

Gang Ski and Tele-Slalom in the afternoon
Group photo at the top of the lift at 3 PM.

Chili Cookoff Contest Starts when the lift closes at 5 PM.

6 PM - Party at the Porkies Lodge begins. BYOB, Potluck, Prizes, Free Stuff, Raffle, Open Jam with the old time music all stars. We will have lots of swag from our sponsors to give away (Voile, 22 Designs, Black Diamond)

--Sunday February 10--

Open Skiing at the hill and backcountry all day

10 AM - meet in lodge for guided backcountry tours and cross country tour.

EXTRA DETAILS

Chili Cookoff is designed as an Apres Ski event starting at 5 PM Saturday where anyone can taste all the chili entrees and vote for your favorite. First Place fabulous prize so bring a batch of your best chili!

22 Designs gave us another pair of Large Outlaw X NTN Bindings, valued at $400. We will raffle them for $5 per ticket Saturday at the party, buy as many tickets as you want. Money will be donated to Friends of the Porkies. Last year we raised over $200 dollars so be generous to help out the park.

Hope to see you all there, this will be our 29th year!!! ... See MoreSee Less
For next year's 30th telefest I suggest some kind of "leather forever" event
Can anyone fill me in on how the gear swap works ? Is someone there all day to handle the sales?
Load more
<>
Visit Midwest Telefest Facebook Page >>>
<>
– – – – – Porcupine Mountains Lodging Packages – – – – – –

<>