Porcupine Mountains – Midwest Telefest – February 11 – 12, 2017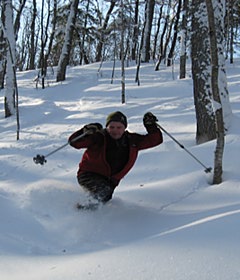 Telefest 2017 will be on February 11 & 12 at the Porcupine Mountains Ski area and State Park near Silver City, MI
Well its Telefest week and everyone is getting excited to ski this weekend!
Here's an updated schedule for Saturday February 11 events.
11:30am – uphill downhill race on Ojibway run in front of the lodge
2:30pm – group photo and gang ski, meet at top of Agate run
5:00pm – gear swap meet up in the porkies lodge Aframe
6:00pm – potluck dinner and acoustic jam starts at the porkies lodge
Sunday February 12
10am – cross country ski tour and backcountry ski tour to the radio tower. Meet near the front entrance at the porkies lodge
For the potluck dinner and party on Saturday night remember to bring a dish to share and bring your acoustic instruments to jam!
We are expecting at least 3-5 inches of fresh snow this week at the porkies and the hight temperatures for the weekend will be mild, in the upper 20s and low 30s.
Hope to see you all there!
<>
Midwest Telefest On Facebook
Below are the latest postings from the Midwest Telefest Page On Facebook.
<>
<>
Visit Midwest Telefest Facebook Page >>>
<>
– – – – – Porcupine Mountains Lodging Packages – – – – – –

<>