PFCT Presents Robin Hood – Historic Ironwood Theatre – July 9, 2016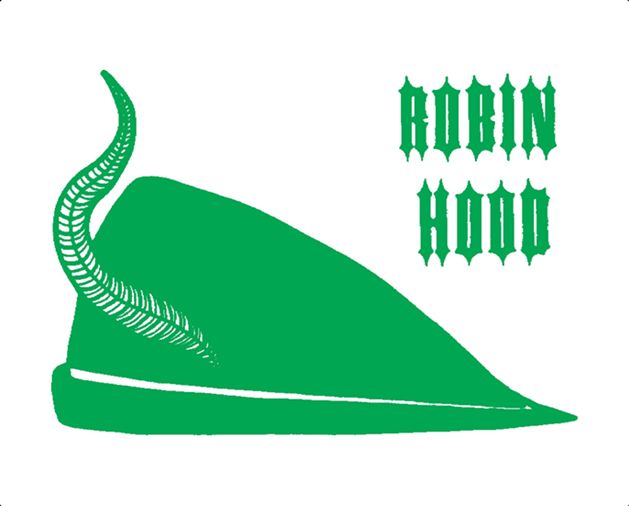 Tear down Sherwood Forest to build a mall?  Not if the merry band & other citizens of the forest have a say!  The heaty  laughter of Robin Hood and his Merry Band will sweep through the trees of Sherwood Forest (temporarily transplanted to the stage of the Historic Ironwood Theatre) on July 9th as up to 70 local children take the stage along with two professional actors in Prairie Fire Children's Theatre's (PFCT) original musical production of "Robin Hood".
The cast of characters  includes:  Robin, Marian, Friar Tuck, Little John, Will Scarlet, Cook Henny, Robin's Mother & the rest of the Merry Band, the Deputies, the Gnomes, the Faeries, the Tutors, Prince John, and the Sheriff's Daughters. The roles of The Sheriff of Nottingham & Flora Queen of the Faeries will be played by the PFCT director/actors.
With original script and music by Daniel Nordquist, "Robin Hood," continues PFCT's tradition of presenting classic tales as you've never seen.  Though set traditionally in the 12th century, complete with Faeries and Gnomes, Prairie Fire's version features the Sheriff of Nottingham as a man ahead of his time…way ahead…eight centuries ahead, in fact.  He is a visionary, and in his vision he sees the trees of Sherwood Forest gone, and in their place stand "Sherwood Theme Park" and "The Mall of Nottingham."  In his way stands the environmentally conscious outlaw, Robin Hood.
Participation Information
If you, or your son, daughter, grandson, granddaughter, niece, nephew, or young neighbor or friend are between 7 and 18, and would like to be part of this exciting production, read on…
Auditions will be held on Tuesday, July 5, starting at 9:00 am. The audition process lasts up to two hours and all those auditioning are required to be in attendance for its entirety.
Rehearsals Due to the short, July 4th holiday week, some actors will rehearse on Tuesday afternoon, following auditions. For the remainder of the week, rehearsals will be held from 9:00 am to 2:00 pm, with performances scheduled for Saturday July 9 at 2:00pm and 6:00 pm. Two professional actor/directors from Prairie Fire's staff will direct the production and play the roles of The Sheriff of Nottingham & Flora Queen of the Faeries .
Show Times:
Saturday, Jul. 09, 2016 at 2:00pm and 6:00pm
Cost:
General Admission $5 adult $3 children
<>
Visit Historic Ironwood Theatre Website >>>>
<>