U.S. Air Force Band – Historic Ironwood Theatre – April 18, 2016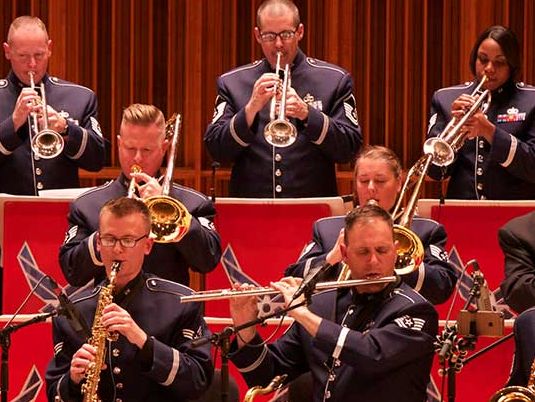 The Band of Mid-America has a long history of entertaining the American public and promoting esprit de corps within the military. The unit strives to inspire the hearts and minds of our men and women serving around the world and to tell the Air Force story through the universal language of music.  The Band of Mid America includes numerous groups including a concert band, rock band, ceremonial band, a roots/folk band, a woodwind quintet and more. Each year, the Band of Mid-America performs for millions of people throughout a ten-state region from the upper peninsula of Michigan to Arkansas.
The Ironwood concert will feature the Shades of Blue Jazz Ensemble, a group of 18 professional enlisted musicians whose repertoire ranges from traditional big band jazz, to bebop and swing, to modern jazz. Their concerts are just as likely to feature the music of contemporary composers as the classic sounds of Count Basie or Glenn Miller. Several of the band's members are also gifted composers and arrangers, and their compositions are often featured in concert.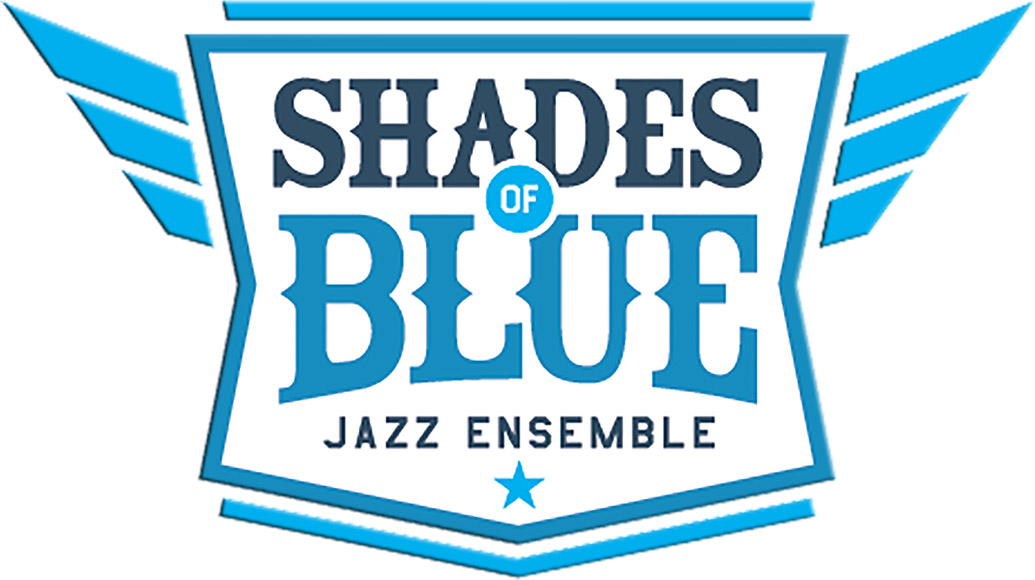 The band has backed many jazz greats such as Tex Benecke, Denis DiBlasio, Jamey Aebersold, Mike Smith, Bobby Shew, Allen Vizzutti, Jeff Jarvis, Mike Vax, Vaughn Nark, Bill Porter, Carmen Bradford, Shelley Berg, Joe Morello, Steve Houghton, and Walt Levinsky. The ensemble is often requested for featured performances at jazz clinics and festivals throughout the country.
The Ensemble frequently pays tribute to the Air Force's musical heritage, including a collaboration with actor Wilford Brimley on a highly acclaimed salute to Major Glenn Miller.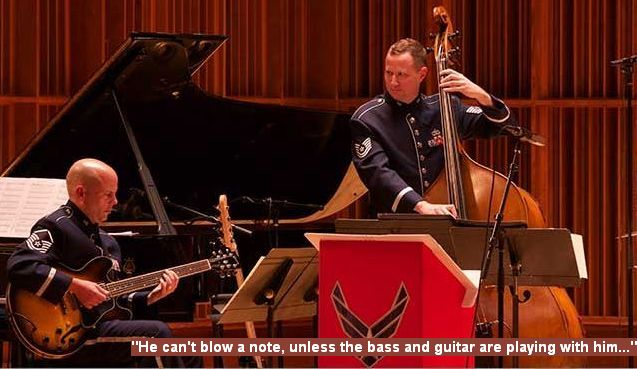 Whether performing for a head of state, playing the national anthem before a capacity crowd at a professional basketball or baseball game in Chicago or Milwaukee, or for our troops at home and abroad, the Shades of Blue reflects the heritage and pride of our great nation and the United States Air Force.
Don't miss this special Monday evening concert by the Shades of Blue Air Force Big Band. FREE ADMISSION, but donations will be appreciated.
Show Times:
Monday, Apr. 18, 2016 at 7:30pm
Cost:
Free! Donations Appreciated.
<>
Visit Historic Ironwood Theatre Website >>>>
<>